September 27th, 2011, 8:18PM by nat | 4 comments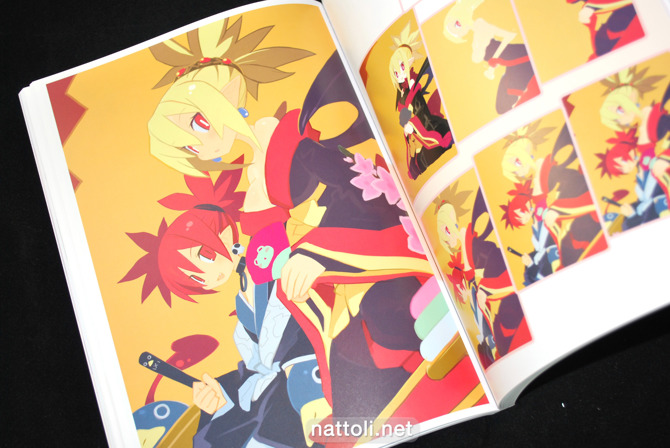 Takehito Harada Art Works I comprises of illustrations from the Disgaea series, Phantom Brave, Makai Kingdom and a few cross-over works. There aren't any non-commercial original works by the artist, making it feel more like a game collection than an artist's collection.
Takehito Harada Art Works I is A4-sized and 208-pages. The cover art is newly drawn for the book, and underneath the slip cover is a textless version of the cover illustration that's also differently cropped. The book starts right in with the art work on page two, commencing the start of the Disgaea section which covers all the games and the anime and runs through page 125. Illustrations from the first Disgaea game cover pages 2 through 23.
The section for Disgaea 2 goes from pages 24 through 42 followed by Disgaea 3 from 43 through 63. One thing I'm not a fan of in Takehito Harada Art Works I is the way illustrations are presented. With just about every illustration, a portion of the page is dedicated to showing the coloring and illustrating process for the picture. Most of the time, this makes the illustrations B5 format on A4 pages. Other times, the page opposite an illustration will be occupied with an illustrated coloring and drawing process.
The worst is when the actual finished image is covered in part by the process illustrations themselves. It's just not the right format for an art book where the main intention is to show of the finished product. Then again, it couldn't even serve as a guide really, as there isn't any explanation and steps are skipped. If anything, I would describe it as showing different layers in a PSD file. The section for Disgaea Portable art work starts on page 64 and goes through page 73. It's immediately followed by the short section for the art of Disgaea Portable 2 on pages 74 through 85.
Art from Disgaea DS, Disgaea 4, Disgaea TV and Prinny 1&2 makes up the content for about the next 40-pages before having a look at some of Takehito Harada's other works, like Phantom Brave and Makai Kingdom.
Nearly every illustration in the 25-page Phantom Brave section was printed in a size better suited for a B5-size art book. Makai Kingdom on the next few pages wasn't much better, though it did have at least four full-page illustrations.
Considering that Takehito Harada Art Works I and DISGAEArt!!! Disgaea Official Illustration Collection were released just days apart, I had hoped that would be all the more reason for it not to just be a Disgaea art book. But it pretty much was, with most of the same art works from DISGAEArt!!! So word to the wise; don't buy both of them ^^;
---
Title: Takehito Harada Art Works I
タイトル: Takehito Harada Art works I 原田たけひと おしごとのーと
Pages: 208
Release date: 07/27/2011
Buy: Amazon Japan

Comments