January 14th, 2012, 9:56AM by nat | 15 comments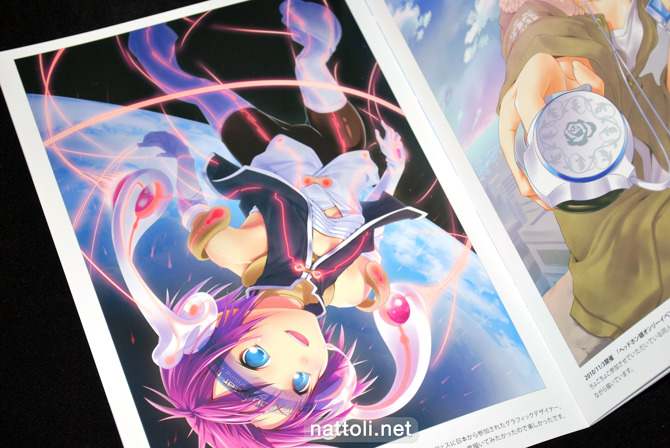 Nilitsu's About 18 Songs 2 captures girls with headphones in a variety of surreal scenes and fan art illustrations. Every girl is in some way involved with music, be it through listening or playing it, so this short doujinshi has an easy to follow theme overall.
About 18 Songs 2 is full color, B5-sized and 20-pages, although not every page features an illustration. Some pages feature the sketches and comments for other illustrations, while others are graphic text and messages from the artist.
Nilitsu has a really distinct style, one that can be especially recognized in the faces which have an almost alien-like quality to them. Though Nilitsu's art work is still rare to find in commercial collections, there was an illustration from the artist in K-ON! Super Illustrations Vol. 1. Interestingly, there are two more K-ON! illustrations in About 18 Songs 2, but they're not from the art book ^^; Guess it's just a favorite subject (Ritsu especially!)
All in all, there are 14 illustrations About 18 Songs 2, which isn't half bad for a doujinshi. If you like the style, it's definitely one to get into! As for the site, I'm sure a lot of you know it's easier to just be a consumer, especially when it comes to hobbies that don't ever get mentioned in your day-to-day life. And yeah, I fall into that zone sometimes and just need to kick start myself out of it. I'll be going through things I've already taken photos of for a while before I attempt to even touch the pile of stuff I've accumulated in the last few months, so I will be out of date, but still in a lot of cases, it should be unfamiliar material ^^;
---
Title: About 18 Songs 2
タイトル: About 18 Songs 2
Pages: 20 (including covers)
Release date: 02/20/2011
Buy: eBay

Comments